Homemade naan bread with mozzarella
Makes 12 pcs.
Prep time 3 hours
Cooking time 5 minutes
Difficulty Medium
Ingredients
20 g yeast
200 ml lukewarm water
2 tsp salt
1 tbsp sugar
150 ml plain yoghurt
1 bag Nicolas Vahé White bread mix / crusty morning
Nicolas Vahé Rapeseed oil
2 tbsp butter, for the pan
150 g chanterelles
1 jar Nicolas Vahé Bruschetta / artichoke & tomato
250 g fresh mozzarella, 2 balls
1 jar Nicolas Vahé Pesto / rocket & almond
1 jar Nicolas Vahé Sliced summer truffle
Preparation
Dissolve the yeast in lukewarm water and add salt, sugar and yoghurt. While kneading the dough, gradually add Nicolas Vahé bread mix. It takes about 10 minutes to form an elastic dough. Cover the dough with a tea towel and leave to rise for about 2 hours, or until doubled in size.
Place a baking tray in the oven and preheat to 250 C, without fan. Divide the dough into 12 pieces. Add some oil to the table and thinly roll each piece of dough into an oval, rustic shape. Top with fresh mozzarella. Place 3-4 naans in the preheated baking tray lined with baking paper and bake for 5 minutes until golden on top. Remove the naans from the oven and leave to cool on a griddle. Repeat with the remaining dough.
Heat a frying pan with butter. Brown the chanterelles over a high heat for about 1 minute. Season with salt and pepper.  Spread a layer of Bruschetta on one half of the naans and top with sliced truffle. On the remaining naans, spread a layer of Pesto and top with fried chanterelles.
Organic Breadmix, Crusty Morning
Rapeseeds Oil, Cold Pressed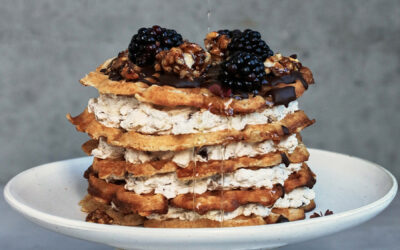 Makes: 1 cake for 6-8 people Prep time: 120 minutes Ingredients 1 bag of Nicolas Vahé Waffle & Pancake Mix 50 g melted butter 50 g Nicolas Vahé Olive Oil / Walnut 3 eggs 300 ml milk 125 g...
read more