Makes: 2
Prep time: 60 minutes, 10 minutes to bake
Ingredients
1 pack of Nicolas Vahé Organic Pizza Mix
125 g creme fraiche, 38%
1-2 tbsp butter
1 fresh and thinly sliced pear
1 glass of Nicolas Vahé Confit / Apricot & Thyme
1 pack of brie in small slices
A handful of fresh and coarsely chopped thyme
Salt and Nicolas Vahé Pepper / Green
Nicolas Vahé Olive Oil / Walnut
Preparation
Make the dough as written on the package.
Preheat the oven to 200°C.
Divide the dough into two and roll out on a floured work surface.
Spread cream fraiche onto the dough.
Place the pizzas on a baking sheet with baking paper and bake for about 10 minutes.
Melt the butter in a pan and fry the slices of pear for a few minutes until lightly golden.
Finish the pizzas with pear, confit, brie, fresh thyme, salt, pepper, and a drizzle of walnut oil.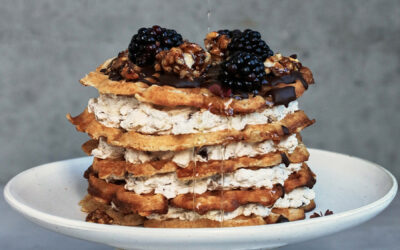 Makes: 1 cake for 6-8 people Prep time: 120 minutes Ingredients 1 bag of Nicolas Vahé Waffle & Pancake Mix 50 g melted butter 50 g Nicolas Vahé Olive Oil / Walnut 3 eggs 300 ml milk 125 g...
read more