Roast potatoes with onion confit & truffle salt
Serves 2 people
Prep time 45 minutes
Ingredients
400 g small potatoes
2 tbsp cold pressed rapeseed oil
1-2 tbsp truffle salt
The juice of ½ squeezed citron
1 glass of onion confit
Preparation
Wash the potatoes and cut them in half. Toss them with oil, salt and lemon juice.
Bake the potatoes in a pre-heated oven at 200°C until golden and crunchy – roughly 40 minutes.
Sprinkle with salt and finish off with onion confit.
Rapeseeds Oil, Cold Pressed
Salt, Sel De Guérande w. Summer Truffle
Confit, Onion & balsamic vinegar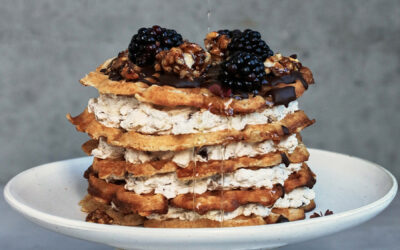 Makes: 1 cake for 6-8 people Prep time: 120 minutes Ingredients 1 bag of Nicolas Vahé Waffle & Pancake Mix 50 g melted butter 50 g Nicolas Vahé Olive Oil / Walnut 3 eggs 300 ml milk 125 g...
read more