Makes: 12
Prep time: 120 minutes, 60 minutes to raise, 15-18 minutes to bake
Ingredients
1 pack of Nicolas Vahé Organic Pizza Mix
1 glass of Nicolas Vahé Pesto Arrabbiata
200 g chorizo, diced
150 g cheddar
Preparation
Make the dough as written on the package and tip onto a floured work surface.
Divide into 6 pieces and roll out.
Add the pesto, sprinkle with chorizo and top with cheddar.
Roll the dough into sausages and cut them, giving you 12 pieces.
Carefully roll each piece around itself, just like cinnamon rolls.
Add each cruffin to a muffin form and let them raise for about 30 minutes at room temperature.
Preheat an oven to 180°C.
Bake for 15 to 18 minutes until golden and crisp.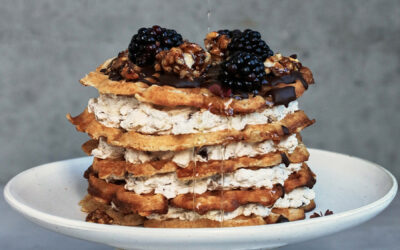 Makes: 1 cake for 6-8 people Prep time: 120 minutes Ingredients 1 bag of Nicolas Vahé Waffle & Pancake Mix 50 g melted butter 50 g Nicolas Vahé Olive Oil / Walnut 3 eggs 300 ml milk 125 g...
read more