Steak snack with emmer, pickled vegetables and capers
Prep time
15 minutes
Serves
4 people
Ingredients
200 g beef steak
100 g Nicolas Vahé Pearled Emmer
2 tbsp Nicolas Vahé Pickled Vegetables
4 Nicolas Vahé Capers with salt
Preparation
Fry the steak in a pan for about 2 minutes on each side until medium rare. Slice it.
Boil the emmer as stated on the bag.
Arrange the steak on a plate with emmer, pickled vegetables and capers.
Organic Pearled Emmer, 350 g.
Tomato relish, pickled vegetables, 160 g.
Capers, with sea salt, 100 g.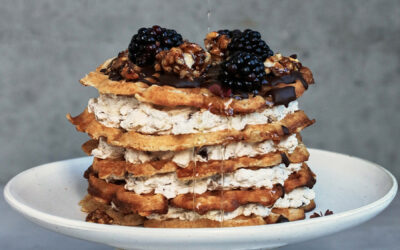 Makes: 1 cake for 6-8 people Prep time: 120 minutes Ingredients 1 bag of Nicolas Vahé Waffle & Pancake Mix 50 g melted butter 50 g Nicolas Vahé Olive Oil / Walnut 3 eggs 300 ml milk 125 g...
read more