Makes: 12 rolls
Prep time: 120 minutes, 1 hour to raise, 20 minutes to bake
Ingredients
1 pk Nicolas Vahé Organic Pizza Mix
1 egg
1 glass of Nicolas Vahé Bruschetta / Courgette & Wild Garlic
100 g thinly sliced halibut
Nicolas Vahé Salt / Wild Garlic
A handful of fresh thyme
Preparation
Make the pizza dough as written on the packaging and make a small hole in the middle.
Crack an egg into the hole and add bruschetta and halibut.
Instead of kneading the dough, use a dough cutter to chop it all up and mix together.
Split the dough into 12 rustic buns and place them on a baking sheet with baking paper.
Sprinkle with salt and leave them to raise for about 30 minutes at room temperature.
Preheat a fan-assisted oven to 180°C.
Bake for 15-18 minutes until golden and crisp.
Garnish with fresh thyme.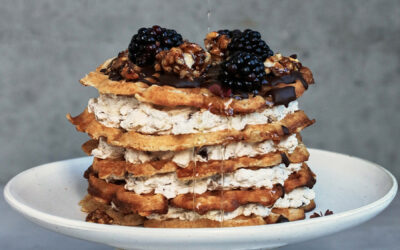 Makes: 1 cake for 6-8 people Prep time: 120 minutes Ingredients 1 bag of Nicolas Vahé Waffle & Pancake Mix 50 g melted butter 50 g Nicolas Vahé Olive Oil / Walnut 3 eggs 300 ml milk 125 g...
read more