Memorable moments with Gourm'easy
In a busy everyday life, many of us still appreciate having the time to enjoy tasty food. But why compromise on what we eat, simply because time is short?
At Nicolas Vahé, passion for great food is deeply rooted in everything we do. Which is why we want to make it easy for everyone to enjoy it and create their own unique gourmet experiences. Because cooking great food is no science project. With quality ingredients and simple recipes, anyone can enjoy delicious food that is as easy to cook as it is to eat.
Gourm'easy is all about bringing flavour to your day and quality to your food. Without making it complicated. It's about using surprising taste combinations and tasty shortcuts to create memorable moments at the table.
SERVES: 4 PEOPLE
PREP: 10 MINUTES
• 100 g. Nicolas Vahé marinade / Tomato & Spices
• 8 pcs. Nicolas Vahé Bruschetta / Garlic
• 40 g. Nicolas Vahé Roasted Cashew Nuts / Truffle
• 300 g. freshly peeled shrimps
Drain water from shrimps and put them in a bowl. Add marinade and stir. Arrange shrimps on bruschetta and top with coarsely chopped cashew nuts. Garnish with fresh thyme.
SERVES: 4 PEOPLE
PREP: 25 MINUTES
200 ml. Nicolas Vahé Ketchup •
2 tbsp. Nicolas Vahé Vinegar / Cucumber •
1 glass Nicolas Vahé Mayonnaise / Garlic •
1,5 tbsp. Nicolas Vahé French Sea Salt •
1 kg. small potatoes •
Neutral cooking oil •
Cut potatoes into bite-size chunks and toss with sea salt and oil. Bake the potatoes in oven at 200° C until golden and crisp. Divide the potatoes into four portions. Mix ketchup with vinegar and spread over each portion. Add 1 tbsp. mayonnaise on top. Garnish with fresh parsley or pea shoots.
SIDE DISH / GARNISH
PREP: 10 MINUTES
• 1 bottle Nicolas Vahé Vinegar / Mango
• 100 ml. plain vinegar
• 1 tsp. Nicolas Vahé spices / Fish
• 5 tbsp. Nicolas Vahé sugar / Lemon
• 1 tbsp. Nicolas Vahé Black Pepper Mix
• 4 red onions
• 1/4 cauliflower
• 1/4 romanesco
Mix mango vinegar, plain vinegar, spices, sugar and pepper in a small pot and bring it to a boil until the sugar is dissolved. Cut cauliflower and romanesco into bite-sizes and onions into small slices. Mix vegetables with pickle and pour the entire mix into a jar. Let it cool and wait at least two hours before serving. Can be stored in fridge for up to three weeks.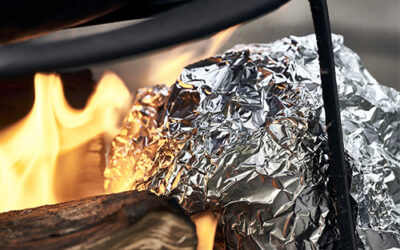 Let the delicious aroma of your cooking spread across the garden as the smoke rises from an open fire. Outdoor cooking is the perfect way to enjoy the outdoors with friends and family. Especially in...
read more